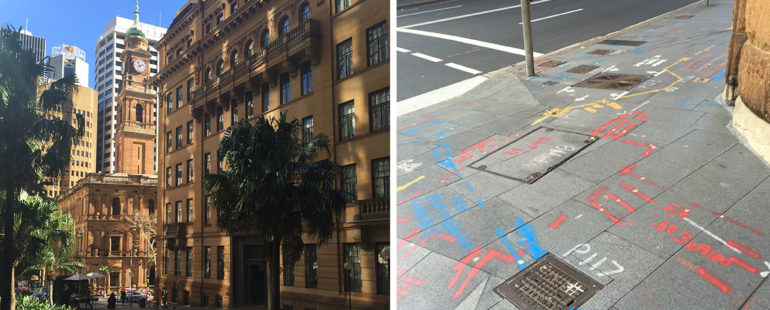 21 Apr
Sydney's Historic Sandstone Buildings Makeover
Project:
Sandstone (Sydney CBD)
Client/Developer:
Pontiac Group (Singapore)
Project Duration:
February 2016 – March 2016 (Utility Mapping Works)
Project Scope:
What did the project involve?
Sydney's Historic Sandstone buildings in the heart of the CBD have been earmarked for a $300m makeover to transform the iconic site into a 240 room luxury hotel. Occupying 2 complete blocks in the financial hub of Sydney's CBD meant the volume of underground services in the area are significant. As such, our client engaged Utility Mapping to complete a 3D Utility Survey of the surrounds to determine the extent of underground services and allow the information to be added to the detail survey of the buildings.
How was this done (methodology)?
An initial Class B (QL-B) Utility Survey was completed to identify the services within the area with all services being marked onto the ground. These marks were then picked up by a surveyor and provided to the client in a DWG file out of AutoCAD. Our survey partners, Land Surveys, No Problems Just Solutions, conducted a laser scan of the internal and external aspects of the buildings. Our utility survey was able to be tied in to the survey to provide a complete above and below model of the site.
What were special or challenging parts about the project?
Sydney's CBD is the busiest in Australia and the Sandstone site is located in the heart of the financial hub, adjacent to the NSW Government towers. This meant the site was flooded with vehicular and pedestrian traffic making the surveyor's progress slow during normal hours. The roads were so busy that even at night there were restrictions on the amount of road we could occupy wit traffic control. In addition to the high volume of traffic, the site was a maze of complicated underground services, sub-stations, cavities, pits and chambers. Utility Mapping's highly experienced team of Utility surveyors were able to accurately map the sites and provide our client with an outstanding result.